boho jewelry has been truly popular recently and would remain to be one of the best styles that this season will feature. Achieving this is really so easy, since just one perfect piece of this jewelry is enough to turn your total outfit boho. Though the usual clothing pieces and bits might look too bold or extravagant for the big ladies, boho still has enough designs to suit the style of everyone. When it comes to boho jewelry, you can't just go wrong. Putting on statement jewelry does not necessarily mean that you have to put on some flashy, big jewelry. Boho has some best jewelry which are small, but yet interesting, and though subtly but can actually draws attention to your style. This jewelry allows all types of colors and metals. This jewelry usually present a sophisticated fairy tale-like design as well as slight pops of color with several delicate stones.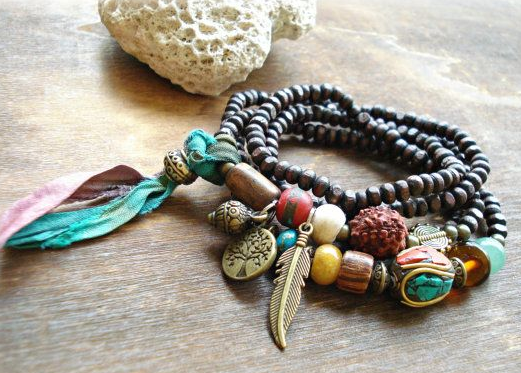 Hippie jewelry was created from the influence of the 1960's hippie sub-culture, which stemmed from the youth movement that started in the USA during the early 60s. This jewelry sees to bring back the spirit of this movement as well as supportsthe centralspirit of this sub-culture, which areartistic experimentation,free spirited, and harmony with nature. The designs of Hippie jewelry reflect all these with the use of natural materials like wood, cotton,leather, and some modern alloy elements either in the form of timepieces or charms. This jewelries are hand-made and the beauty of each is so unique that no one hippie jewelries are exactly the same, every piece has its own unique quirks.
Erin Siegel and Lorelei Eurto defined bohemian jewelry as "an artistic, naturally-inspired, and playful blend of textures and materials". You may choose towear this jewelry with a solid-color cardigan, a handmade leather bag, wood-soled sandals, a floral-print dress, etc. According to Siegel and Lorelei, bohemian features key stylesliketextured andpatterned fibers like cord, ribbon, and leather; organic materials like clay, stones, and wood; andvibrant colors.